It doesn't feel like it's been that long since I last done this, but nevertheless the time has come once again to coose my read of the month. However, I've found it impossible to choose just the one as I've read some great books this month, so I've chosen two instead. And they are:
Miracle on Regent Street by Ali Harris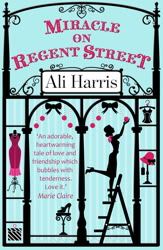 and
The Night Before Christmas by Scarlett Bailey
I've chosen Ali Harris' debut novel Miracle on Regent Street because I loved how Christmassy the story was right from the very first page and because it put me in a festive mood. I loved the main character Evie and thought that she was a very relatable character which many people would be able to empathise with and feel some connection to. I thought the story was great too and the setting - a suffering London department store - was a really good one as it enabled Christmas sparkle to be dotted throughout the days that made up the chapters in the book.
I've also selected Scarlett Bailey's first book The Night Before Christmas because it gripped me from the very first page. I thought it was a lovely Wintery read and ideal for curling up with on a cold afternoon. I loved how the outcome wasn't predictable - I couldn't work out which of the three men that entered main characters Lydia's life she was going to end up, which I thought was really good, as I was guessing the entire time I was turning the pages. The setting was lovely and I thought it was nice to have a group of friends all together in one place at Christmas all at a completely different time in their lives.
I've got lots of books that I want to read before Christmas. I'm currently reading The Secret of Happy Ever After by Lucy Dillon, and I'm hoping to read It Started with a Kiss by Miranda Dickinson, Christmas at Tiffany's by Karen Swan, The Jewels of Manhatten by Carmen Reid and Georgie Carter's The Perfect Christmas all within the next few weeks. I better get reading if I'm going to get though all of that lot!