At the end of every month I thought I'd post about my favourite read from that month. Now, I'm a few days late with this one, but here is my August Read of the Month: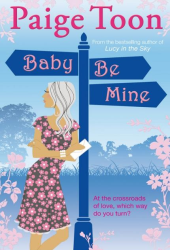 During August I managed to read seven books, but my favourite of them all was Paige Toon's latest one, 'Baby Be Mine.' It's the follow up to 2008's Johnny Be Good and while plenty of her fans have been waiting for this follow up for some time, I'm a relatively new reader to Paige Toon's books and only read Johnny Be Good a few months ago so I didn't have long to wait.
I thought that Baby Be Mine was better than Johnny Be Good and I flew through it in the space of a day. I couldn't put it down and was desperate to know what was going to happen next! I love Paige Toon's writing style and always find that she has an uncanny way of making you feel like you are in the main character's shoes, feeling and thinking every little thing that they do. I won't spoil Baby Be Mine for those that are yet to read it, but let's just say it provides all the answers desired after the previous book and revisits lots of past characters and places as well as some new ones.
Paige's other novels are really good also. I haven't yet read Chasing Daisy, although it's sitting on my To Be Read pile of books, and Pictures of Lily and Lucy in the Sky are two of my favourite chick-lit reads! There's something about them that just really connect with me so I'm sure I'm going to enjoy Chasing Daisy just as much.
Other books that I read during August that are also worth checking out are:
* The Secrets Between Us by Louise Douglas
* Monday to Friday Man by Alice Peterson
* Taboo by Casey Hill